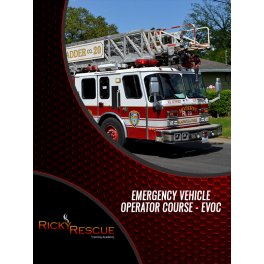 EVOC (Emergency Vehicle Operator Course)
The 16-hour 
EVOC
 (Emergency Vehicle Operator Course) is designed to provide EMS operators, firefighters and paramedics with the needed skills to safely operate and drive emergency vehicles, including ambulances.  This training class focuses on advanced driving skills and defensive driving in emergency and non-emergency situations. The Ricky Rescue Training Academy 
EVOC
 class meets both the national and state of Florida requirements for 
EVOC
 certification. Class participants must have a valid Florida drivers license (Class E operator).
This blended class includes eight hours of online training, combined with eight hours of practical on site driver training at a Ricky Rescue location.
This course is designed to meet Florida state (Florida Statute 401.281, 316.003 (1) F.S.) and Florida Administrative Code 64J-1.013 requirements for safe emergency vehicle operations. 
Current Location:
CHAMILO_CODE

EMERGENCYVEHICLEOPERATORCOURSE