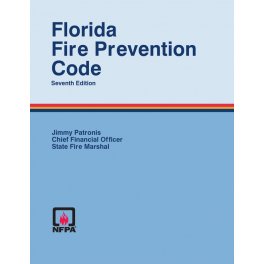 Ricky Rescue Training Academy's "ATCP1510 Codes and Standards" is a 45-hour in-person course and is part of the required course work for Florida Fire Inspector 1. It also provides 45 CEU's towards the Florida State Fire Inspector certificate renewal program and the Florida State Fire Instructor certificate renewal program.
The "FFP1510, BFST1510, ATCP1510 Codes and Standards" course complies with the Job Performance Requirements established by NFPA 1031 and will familiarize students with the Florida Fire Prevention Code and NFPA 1 (Fire Prevention Code) as well as the five basic units of NFPA 101 plus FSS 633, and FAC 69A.
In this course, students will learn how to research codes effectively and how to employ them when completing fire inspections. Students will become familiar with the various fire prevention codes employed by fire departments across the country. They will also understand the effects and results of deploying these codes with regards to prevention and containment of fires and other aspects of life safety.
This course teaches various building construction codes and standards that are used to identify and prevent design deficiencies. Such deficiencies may lead to fire, heat, and smoke spreading in old and new structures. This course also teaches methods for developing and implementing effective fire prevention programs in the community, for industries, and in other related institutions.
Upon successful completion of this course students will be able to:
Understand the purpose and objectives of the Florida Fire Prevention Code (FFPC) and associated Florida legislation and statutes related to fires and firefighting.
Comprehend the roles and responsibilities of everyone affected by the FFPC
Easily find information in NFPA 1 and successfully apply that information to inspections
Easily find information in NFPA 101 and successfully apply that information to inspections and plan review
In addition to enrolling in this course, students must have:
Florida Fire Prevention Code (7th edition) ISBN - 9781557018427 This book is not supplied with your purchase of the course but is available via free online access.
A high-speed internet connection
ATCP 1510 Codes and Standards is completed in a traditional classroom setting. Exact location and time will be confirmed via email 5 days prior.