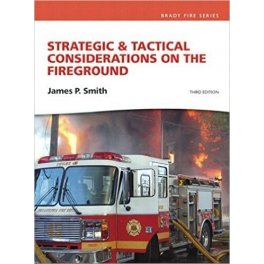 Ricky Rescue Training Academy's "Firefighting Tactics and Strategies 2" course is a 45-hour, self-paced, online fire course with continuous enrollment that is one of the mandatory courses for Florida Fire Officer 2 certification.
FFP 2811, BFST 2811, ATPC 2811 Firefighting Tactics and Strategies 2 meets the Job Performance Requirements as outlined by NFPA 1021. The course will familiarize students with operations involving multiple companies as well as issues including effective strategy, logistics, deployment of mutual aid services, and operations involving complex types of structures.
The course is primarily aimed at company officers who find themselves in control of emergency situations that require close coordination and effective deployment of large numbers of personnel and equipment. The course focuses on developing decisive thinking skills and effective risk management planning.
Upon successful completion of this course, students will be able to:
Identify the types of strategic factors required by special occupancies and special situations
Identify the types of strategic factors required by high-risk and health care occupancies
Identify the characteristics of industrial and commercial occupancies, evaluate potential issues, and factor in the impact these may have on fire and rescue strategies
Comprehend the types of strategies required for dealing with incidents involving hazardous materials and for possible terrorist attacks
Effectively analyze an incident and be familiar with incident stress
In addition to enrolling in this course, you must have:
Strategic & Tactical Considerations of the Fireground, 3rd edition, Brady. ISBN 978-0- 13-25881-7.
NOTE: This book is not supplied with your purchase of the course but is available through technical bookstores and online vendors.
NOTE: Before purchasing any textbooks check to make sure you are using the correct ISBN as there may be several versions of the title available depending on customization requirements for individual schools.
A high-speed internet connection
Tactics & Strategies II
FFP 2811 Tactics and Strategies II covers multiple company operations, logistics, strategy, use of mutual aid forces and conflagration control. This course will focus on tactics in industrial and manufacturing settings which may involve close coordination and maximum use of large amounts of manpower and equipment. Critical thinking skills will be stressed.