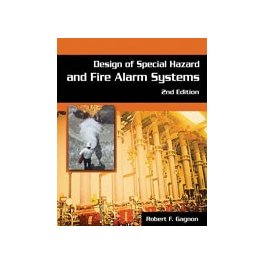 Ricky Rescue Training Academy's FFP 2541 Private Fire Protection Systems 2 is a 45-hour self-paced, online course with ongoing enrollment, and one of the four mandatory courses for Florida Fire Inspector 2 certification. FFP 2541 also provides 45 CEU's towards the Florida State Fire Safety Inspector certificate renewal program.
FFP 2541 gives students in-depth knowledge of portable and pre-engineered fire protection systems, including:
Extinguishing agents
Alarm systems
Code compliance inspection and enforcement procedures
Online Fire Inspector 2 Certification FFP 2541 Course Objectives
Upon successful completion of this course, students will be able to:
Describe and understand the basic design concepts that underpin fire alarm and special hazard systems, including contract drawings and contract drawing packages, contract documents, and required items in a designer's survey kit.
Impartially discuss the ethical and professional responsibilities involved in carrying out fire safety inspections.
Be aware of the ethical and professional responsibilities of other personnel involved in the design and implementation of fire alarm and special hazard systems.
Describe and understand special hazard suppression agents and be familiar with their respective applications in relation to the type and class of fire.
Discuss the following types of extinguishing agents and systems, including their design, application, advantages, limitations, and required safety precautions:
Low-Expansion Foam System Design
Medium- and High-expansion Foam Systems Design
Water Mist Systems
Ultra High-Speed Explosion Suppression Systems and Ultra High-Speed Water Spray Systems
Clean Agent and Halon Replacement Extinguishing System Design
Carbon Dioxide System Design
Dry Chemical and Wet Chemical Extinguishing System Design
Demonstrate expert knowledge of the various types of alarm and fire detection systems currently in use, including their:

Most appropriate deployment,
Correct and safe operation,
Reliability,
Stated performance objectives

Discuss currently available fire alarm system initiating devices (manual, heat, smoke, gas, flame), their applications, reliability, capabilities, limitations, and design.
Discuss fire alarm notification signals and the various types of notification appliances available (audible, visible, tactile), be familiar with notification systems design and regulations particularly around audibility and visibility requirements, and know what an annunciator panel is and its function.
Be familiar with the various types of fire detectors (beam, flame, gas, duct), their required placement parameters, and the reasons for those parameters.
Explain the different types of fire alarm control units and circuit designs, their function, the differences between them, the advantages and limitations of each, their appropriate applications, and be capable of drawing diagrams and plans of fire alarm systems.
Required Course Materials - Online Fire Inspector 2 Certification FFP 2541
In addition to enrolling in this course, students in the online Fire Inspector 2 certification FFP 2541 course must have:
Recommended Book: used by FSFC – Design of Special Hazard and Fire Alarm Systems; Thomson Delmar Learning (2008) ISBN: 978-1418039509
NOTE: This book is not included with your purchase of this course, but can be purchased through technical bookstores or online
NOTE: Before purchasing any textbooks, ensure that you are using the correct ISBN as there may be several versions of the title available, depending on customization requirements for individual schools.
A high-speed internet connection, and a device capable of connecting to the Internet and reading MS Word, PowerPoint and Adobe documents