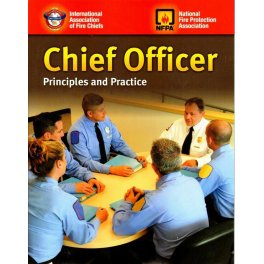 Ricky Rescue Training Academy's "ATPC3785 (RN 9516) Chief Officer" Course is a 60-hour, self-paced, online fire course with continuous enrollment and is one of five required course work units for Florida Fire Officer 3. The required coursework units for Florida Fire Officer 3 are the following
PD-4023 I-400 – Advanced ICS for Command & General Staff
FFP2770, BFST2770, ATCP2770 – Ethical and Legal Issues for Fire Service
FFP3785, BFST3785, ATPC3785, FFP3785 (RN 9516) – Chief Officer (60 Hours)
RN4807 – Courage to be Safe
RN9641 – Analytical Approaches to Public Fire Protection (45 hours)
The FFP3785, BFST3785, ATPC3785 (RN 9516) Chief Officer course also counts for Florida Fire Instructor, Florida Fire Inspector, and Florida Fire Code Administrator certification renewals, and complies with the Job Performance Requirements as established by NFPA 1021 Officer III. This course familiarizes students with principles of management theory and how these apply to the fire service.
This course will cover a wide variety of topics, including:
Skills for effective communications
Professional development
Intergovernmental and community relations
Human resource management
Legal topics
Strategic and tactical planning
Public and community education
Fiscal issues, including budget planning
Management of emergencies
Upon successful completion of this course, students will be able to:
Comprehend the leadership role and its importance in the fire service
Understand the importance of effective communications during both emergency and non-emergency situations
Comprehend the importance of a fire officer constantly striving to improve their knowledge, skill sets, and qualifications
Understand how fire officers effectively and positively interact with local communities
Comprehend how government departments interact with each other, the importance of these interactions, and how these interactions will affect the fire service
Recognize and support components of effective human resource management
Understand the various laws and regulations that mandate how fire departments operate
Understand the importance of strategic planning for the fire service
Comprehend the management functions that are required in emergency situations and the fire department's role in these functions
Understand the role of the fire department in public education and code enforcement
Understand the various fiscal issues that fire departments face effectively manage the department's financial affairs.
In addition to enrolling in this course, you must have:
Chief Officer Principles and Practice; Jones & Bartlett (2012) ISBN: 978-0- 7637-7929-0.
NOTE: This book is not supplied with your purchase of the course but is available through technical bookstores and online vendors. Order your book online & use promo code RRSC6 for 25% off your textbook.
NOTE: Before purchasing any textbooks, ensure that you are using the correct ISBN as there may be several versions of the title available depending on customization requirements for individual schools.
A high-speed internet connection