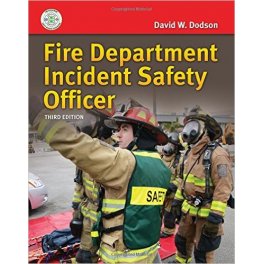 6742 Florida Incident Safety Officer is one of 2 courses required for the Florida Incident Safety Officer certification and one of 4 courses needed to obtain your Florida Safety Officer Certificate of Competency. It is a 45-hour, open enrollment, self-paced eLearning course and provides 45 CEU's towards your Florida Fire Inspector and Instructor re-certification. 
6742 Florida Incident Safety Officer complies with NFPA 1521 and familiarizes students with National and Florida-specific information on the role of an Incident Safety Officer. Subjects covered by the course include:
• The role of Safety Officer 
• Safety Concepts
• Codes, Regulations, Laws, Standards and Procedures
• Designing an ISO System
• Professional Development
• Reading Buildings, Smoke, Risk, Hazardous Energy, and Firefighters
• Triggers, Traps and Working within ICS
• Basic Approach to ISO Duties
• ISO at Structure Fires, Wildland Fires, HazMat Incidents, and Technical Rescues
• Post Incident Responsibilities
When you have completed the topics covered by RN 9641 Analytical Approaches to Public Fire Protection you will:
• Know the history and roles of the incident safety officer. 
• Know about safety concepts and apply theories of risk management in a life situation. 
• Know and be able to recognize regulations, codes, laws, and standards applicable to ISO. 
• Be able to devise an ISO system. 
• Be aware of the knowledge, skills, and attitude that go into making a good ISO. 
• Know how to read buildings for signs of collapse and hazards. 
• Know how to identify and signal hostile fire events through smoke patterns
• Be aware of best practices around approaching risks as it relates to firefighters
• Understand the significance of situational awareness. 
• Know what hazardous energy is and how it impacts emergency scenes. 
• Know how to read a firefighter and be aware of how important rehab is within the service.
• Know how to ensure safe behaviors and be aware of the communication tools to achieve this
Required textbook (Not included):
ISBN-978128404195-8
Jones & Bartlett (2015)